The Gift - Gift options for loved ones
You may be struggling to identify the perfect gift for a loved one. Why not only give them the treasured memory of the personalised products for the future by giving them the gift of art?
We have various gift certificate options available, ranging from the full select package shoot (inclusive of print option) through to money off of other existing photo shoot packages*.
Our gift certificates can be provided in a presentation format upon request for no additional cost.
They can also be provided electronically with a voucher code with the added bonus of a £1.50 saving off of the voucher cost (e.g. £30 gift certificate, will cost you only £28.50).

*Some products and services may be exempt from voucher discount so please verify when placing your order.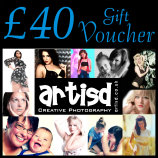 |
|
|
|
To order our gift certificates either contact us directly of buy them on line from the IAMSELF personal development store (see link below).

Gift certificates are available as £30, £40 & £50 value rates.
Full shoot gift certificates are available at the cost of the standard shoot rate for that package (see prices or contact us for further details).
How to Purchase
|
|
|
|
|

Copyright (C) 2019 Artisd - FocusCT. All Rights Reserved